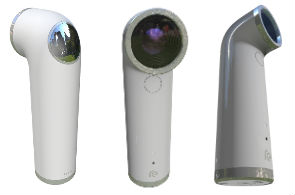 The GoPro range of action cameras have always dominated adventure sports, but HTC have now announced the RE, a waterproof, wide-angled digital camera, aimed at the same market. The cylindrical RE is 9.7cm (3.8in) tall and weighs just 65.5g (2.3oz), making it marginally lighter than the GoPro cameras, which weigh in at around 75g naked and 150g in their protective casing. The RE though is considerably taller and less conventional looking – more of a mini-periscope. Like the GoPro it lacks playback screen but can be paired wirelessly to apps on smartphones and tablets.
Commenting on the RE Peter Chou, HTC's chief executive, said: 'Combining incredible hardware with unrivalled software, HTC is reinventing the way we think about imaging… We are taking you out from behind the viewfinder and putting you back where you belong, at the heart of the action.'
The RE features just two buttons: a short tap on the base button takes a photo, whilst a longer press starts/stops video recording and a side button is used to change functions such as selecting slow-motion and time lapse. The camera is 16MP compared to the GoPro HERO4's 12MP and is capable of shooting in 1080p high-definition video at normal speed, and 720p in slow-mo.
As shipped the RE has a waterproof rating of IPX7 allowing it to be submerged to 1m for 30minutes with an optional casing taking it down to 3m for up to two hours – a limiting factor when you consider the GoPro's mighty 40m credentials. The initial US release price for the RE is $199 (£124) compared with the HERO4's heftier price-tag of around £370.00
The RE is bound to find a market, but rival the GoPro? That very much remains to be seen.
More on the HTC RE at htc.com and on GoPro at GoPro.com