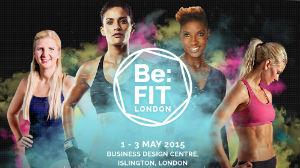 For 3 days between May 1 and 3 Be:Fit London will take over the Business Design Centre in Islington to equip women with the tools to ditch the fads and 'become healthier and happier.' Promising everything needed to upgrade your lifestyle under one roof, Be:Fit London is set to feature the capital's top wellness, nutrition and health experts along with the chance to meet Olympians Becky Adlington and Denise Lewis.
125 brands including Vitamix, Quest Nutrition, Vita Coco and BOOMCycle will be on hand along with a chance to watch celebrity chef Sophie Michell in The Total Greek Yogurt Kitchen and an opportunity to maximise your post workout routine in 2XU's performance and recovery clinic.
Tickets for Be:Fit London are £18 with £9 fees for concessions and children aged 11-16.
Further details of Be:Fit London at befitlondon.com