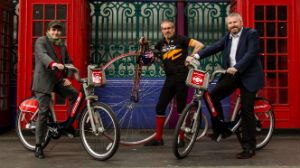 The launch of the 2015 Jupiter London Nocturne promises all types of cyclists, from commuters to Olympic champions, taking to the streets of London on June 6 to signal the start of what should be a great summer of cycling in the capital. Last year say more than 10,000 fans at the event, creating an electrifying atmosphere on the 1.1km street circuit around the historic Smithfield Market.
The ninth edition of the award-winning event is once again title-sponsored by Jupiter Asset Management with Edward Bonham-Carter, Vice-Chairman Jupiter commenting: 'The Nocturne is a fantastic event which captures the culture and variety of cycling in the capital. As cycling enthusiasts, Jupiter is delighted to continue our sponsorship and this year the event includes our Jupiter race where the competing teams will battle it out over 10 laps – but who will take the spoils on the day? We will have to wait until June to find out, but we're looking forward to cheering on all the Jupiter London Nocturne racers in what promises to be an exciting day of cycling.'
FACE Partnership CEO and event promoter James Pope adds: 'The 2015 Jupiter London Nocturne will be more exciting than ever for fans and competitors, and Jupiter's support is the key to staging another world-class event.'
This year's event will once again include the traditional Folding Bike and Penny Farthing Races, culminating in the men's and women's Elite Criteriums which will feature a host of British and international cycling stars, whilst the City Criterium will see corporate teams vying to claim the glory as the fastest business in the Square Mile.
The Jupiter London Nocturne will also include the Brooks Retro Criterium, Leigh Day Criterium and the Santander Cycles Race – the cycle hire race, sponsored by Transport for London (TfL), was one of the highlights last year and returns for 2015 with a new fleet of Santander Cycles.
The Jupiter London Nocturne is free to attend with grandstand and hospitality tickets also available to purchase. Information on how to enter the Santander Cycles Race and all the Jupiter London Nocturne races can be found at londonnocturne.com
You can get social with the London Nocturne on Facebook and Twitter too.