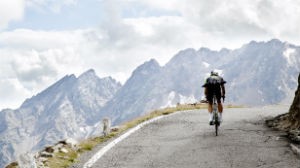 The 5th Floor – a cycling collective and team based out of London and New York – have today released its photographic lookbook in partnership with adidas cycling, from the team's training camp in Italy where riders tested their specially made range of adidas kit in the mountainous region of the Dolomites.
5th Rider, Rudy Melo commented: 'The Dolomites was the toughest training camp I've ever been involved in – from the sharp switchbacks on the Stelvio Pass to brutal climbs up Mortirolo, the Italian roads really pushed the team to our limits. That said, the feeling of accomplishment each day was amazing, as you'd overcome routes you could never have prepared for, alongside your teammates… The trip was the perfect playground for us to put the adidas kit through its paces, whether it was a long day in the saddle climbing, or early morning descents, it stood up to and surpassed the ultimate tests and expectations.'
Angus Sung, photographer on the trip added, 'For me nothing compares to being in the mountains. The landscape lends itself to being photographed with the natural sense of grandeur and scale, and unpredictable conditions. Getting the perfect shot wasn't always easy as the guys were riding to train up 12% climbs often in scorching sun, so it meant once I'd found a good spot I'd have to jump out and run up the mountain to get that higher perspective. Even 5 meters extra above the road gives a completely different perspective so it was worth the extra effort, especially given the outcome – epic landscapes with the 5th Floor rocking the 3 stripes.'
The adidas x 5th Floor range includes skin suits, jerseys, bibs, caps, overshoes and warmers – using the team's iconic green palette and shield logo combined with adidas' classic 3 stripes. Also part of the adidas x 5th floor kit laydown is a limited edition version of the newly launched adistar range.
Further information on The 5th Floor at the5thfloor.cc with further details on the adidas cycling range at adidascycling.co.uk
Take a look at more of Angus Sung's work below: