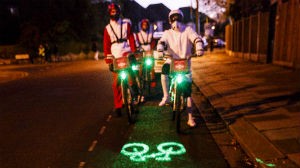 The Mayor of London Boris Johnson, Transport for London (TfL), and Santander UK have today announced that all 11,500 Santander Cycles, will be fitted with Blaze Laserlights over time from early 2016. The Blaze Laserlights project the symbol of a bicycle shape six metres in front of the cycle, onto the ground, giving the cyclist a larger footprint on the road. This makes their presence known, alerts drivers to their approach and helps ensure they are seen when otherwise they might be invisible, for example when they are on the near side of a vehicle turning left. An integrated version of the Laserlight will be installed directly into the bike frame to ensure the image is projected at the ideal position for both cyclists, drivers and pedestrians. The Laserlights will only come on only when it is dark to save energy.
After a successful trial with overwhelmingly positive feedback and strong independent test results, the Laserlights will provide a bigger, brighter presence on the road and early warning of a cyclist's proximity. The project is largely funded by Santander UK as part of the partnership with TfL.
Boris Johnson comments: 'It's fantastic that our Santander Cycles will be able to bring light to the dark side of the street with these nifty Blaze Laserlights. We're always looking to develop new and innovative ways to help people cycle around the Capital more safely and these green lights will help all our cycle hire users to stay seen at night. I'm delighted that through this great partnership, we're able to help improve safety and support the enterprise of another brilliant London start-up.'
Read the Cyclo review of the Blaze Laserlight here.