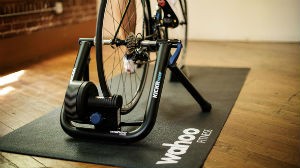 Wahoo Fitness have announced the latest offering in their range the KICKR SNAP, a turbo trainer that connects seamlessly with smartphones, tablets and computers, giving the user full control over pedalling resistance and provides a reliable power measurement so users can monitor and adjust intensity.
Using ANT+ and Bluetooth 4.0 technology, the KICKR SNAP connects wirelessly to Apple, Android and Windows platforms, to conveniently capture all important ride data. Further, Wahoo's full line of sensors and devices, like the TICKR X Workout Tracker, can easily be integrated to record heart rate and cycling cadence.
The KICKR SNAP, Weighing 38 pounds, features a wheel-on design, so users can easily attach a bicycle of almost any type. Thanks to a unique flywheel, SNAP has been engineered to replicate the inertia experienced when riding outdoors, providing the highest inertia of any smart trainer on the market and unmatched wattage at any speed. It's designed to work with training platforms like Zwift and TrainerRoad that make riding indoors more competitive, interactive, convenient, and fun. Users can choose the Wahoo Fitness app or from a number of third-party apps to ride a virtual course with friends or perform a structured, power-based workout to achieve their fitness goals.
The KICKR SNAP will be available in August 2015 at selected specialty retailers and uk.wahoofitness.com for £649.