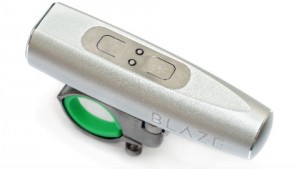 The Blaze Laserlight is a solid reminder that crowd-funding, in this instance via kickstarter, continues to incubate a good number of products that are both innovative and beautifully executed. The Blaze Laserlight is, at heart, a powerful front cycle light that adds significantly to the safety factor by incorporating a laser projection up to 6metres ahead of the rider.
As a standard light the Blaze Laserlight, with its sleek machined aluminium casing, is capable of delivering a combination of 100lumen flashing, 100lumen solid or 300lumen solid – all of which can be used either with our without the laser projection (of a bicycle of course) in solid or flash mode.
Technical spec
The aluminium casing of the Blaze Laserlight, with its discreet silver nickel control panel, contains a full aluminium internal chassis designed to aid both cooling and overall robustness. Weighing in at 182g it's recharged via supplied USB cable to provide anything from 2hours use (high beam and constant laser) to 29hours (low beam, flashing and no laser.) The whole unit is fully waterproof – rather than merely resistant – and attaches to handlebars from 24–32 mm in diameters via a quick-release clip.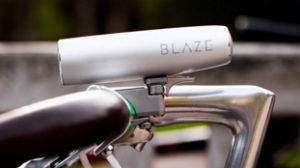 The Blaze Laserlight on test
Attaching the bike mount section of the quick release clip to the handlebars is relatively easy using the supplied 4mm allen key and appropriate rubber insert for the tube size. Fine-tuning the laser to project at the desired ahead takes a few additional minutes (and really needs to be done in low-light conditions) and you're good to go.
Operating either the standard lamp or independent laser takes the briefest of touches to the panel to cycle through the options and there's no denying that 300lumen is a dazzlingly effective way of lighting up even the darkest of country lanes. Better yet, if you're an enormous attention seeker, it's impossible to ride anywhere with the Blaze Laserlight and not encounter people willing to coo over it and tell you how cool the projection looks. (Okay, so that's not going to appeal to every ego out there.)
A thing of beauty
The Blaze Laserlight has, without question, been designed to appeal to those who think contemporary aesthetics begin and end with all-things Apple. In fact the light is made in partnership with PCH International, a manufacturing company that also makes products for Apple – if you don't like sleek, tactile and brushed metal, this isn't the light for you. Actually everything from the typeface to the packaging and slender lines of the light itself have been beautifully thought through to balance form and function in one neat package.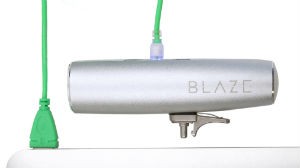 Downsides of the Blaze Laserlight
Yes, it looks gorgeous, yes, it's crazy-bright and yes the laser projection in both very cool and integral to added safety; but…
As much as we love this light there are still flaws and drawbacks. Starting with the USB charger, which uses the kind of magnetic clip that Macbook users get all worked up about. Whilst the Mac version is robust, the Blaze Laserlight version has an utterly annoying tendency to be knocked off with the slightest of efforts. Several times Cyclo has gone to pick up what we were hoping would be a good-to-go, fully charged light, only to find it untethered and lifeless.
The quick release clip also proved frustrating longer-term, slowly unthreading itself (in days, not weeks) to leave the light swinging wildly from wide to side. Even when tightened to the max there's far too much lateral movement. More disturbingly – arguably this is a fault in the unit we had on test – was the tendency for the light and laser to both go off unexpectedly when we hit a bump in the road…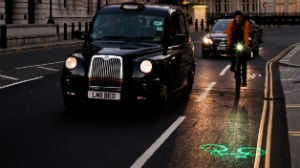 You make your choices…
There is much to love about the Blaze Laserlight. Personally we really appreciate the aesthetics and attention to detail and there's no denying that the projected bike image is going to add significantly to safety (apparently '79% of cycling incidents happen when drivers manoeuvre into the rider's path.') The main beam is bright and crisp – even if 2-3hours on full is nowhere near long enough – and there's something of the Star Wars generation in us that loves the idea of attaching a laser to the bike.
The Blaze Laserlight is also, predictably, on the costly side at £125. Of course it's unique selling point is the laser itself, but of you just want a really bright light then something like the Lezyne Macro Drive 600XL is going to offer up twice the lumens for half the price or the Exposure Sirius Mk4/TraceR Light Set gives you front and rear (500 and 110lumen respectively) for a comparable £129.95. Both the Lezyne and Exposure Sirius lights are available on wiggle.co.uk
Full details on online purchase of the Blaze Laserlight at Blaze.cc