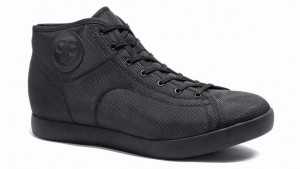 Cyclo have long been fans of Quoc Pham, purveyors of 'classically-inspired, hand-lasted cycling shoes', but despite trying a few varieties, we've never tested a pair of the Bike Polo inspired 'Hardcourt'. We decided to put that right…
Known for SPD compatible classic leather shoes the Hardcourt is the company's only departure into Nylon. The Hardcourt comes in 'Low' and 'Mid' models, with the Mid offering a higher, desert boot-like, shape and the Low more easily passing for a rather smart pair of minimalist trainers. We road tested the Quoc Pham Hardcourt Mid for a week using various SPD equipped bikes.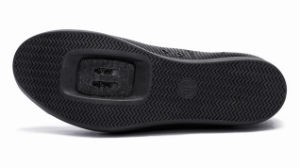 The company claims that it provides 'style, comfort and functionality in ways that allow cyclists to seamlessly transition from cycle to sidewalk to office.' In the case of the Hardcourt that holds true; the black on black styling will go with pretty much anything you're wearing. Off the bike the heavily recessed soles mean you soon forget you are wearing anything but a normal, very comfortable, pair of boots.
Fitting the SPD clips on the sole was effortless with everything you need supplied in nice orange cloth 'after care' bag. The reflective strips on the heel are a nice touch, although they came a little scuffed out of the box.
However, it's on the bike that they really shine. That's down to two factors – the fit and the sole. The Mid offers seven lace eyelets so that you can pull the body of the shoe as tight as you like and it stays that way; the padding on the upper panels add to the comfort levels. The hardened mid-sole showed zero flex, and gave a secure and effortless pedal action.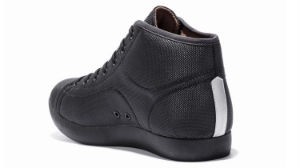 The shoe softened and 'broke in' after just a few days constant wear, stayed snug, was wind resistant but stayed cool even with prolonged use. However, bear in mind that this boot is water 'resistant' not waterproof. In heavy rain water will seep through the tight weave and soak your feet.
The price of £159 is a little higher than competitors such as Chrome and DZR although neither produces an SPD shoe that directly compares.
So, if you are looking for a casual, low maintenance, boot for sports or urban hops the Quoc Pham Hardcourt Mid does the job in a comfortable, functional way. Rumour has it that each pair takes a day to make. Judging by the quality of materials and attention to detail that wouldn't surprise us.
Further detail and online purchase of the Hardcourt and the full range of Quoc Pham shoes can be had at quocpham.com