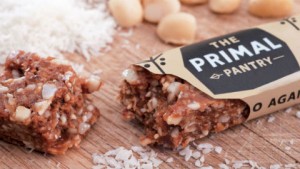 Primal Pantry produce a range of five bars designed to compliment a paleo diet, but before you go screaming from the room shouting 'fad', hang fire. Whilst we're not about to get embroiled (at least here and now) about the benefits or otherwise of paleo what you should know is this: whether you love or loath the idea of paleo Primal Pantry Bars are still perfectly placed to fuel your ride. In fact they do so brilliantly.
So, Paleo 101: No grains, refined sugars, dairy, processed foods or oils of legumes such as soya. All of which means the Primal Pantry Bars are grain-free, don't use sulphates in their dried fruits, contain only 'real food' and are suitable for both vegetarians and vegans. In fact – and this is really refreshing to know – the ingredients are pretty much spelled out in the flavour name of each bar, the Apple and Pecan Primal Pantry Bars, for example, contain dates, almonds, organic apple, pecans, cinnamon and almond oil. That's it, no nasty surprises here.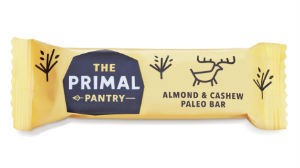 Aside from the Apple and Pecan option the Primal Panty range of flavours are Brazil Nut and Cherry, Hazelnut and Cocoa, Almond and Cashew, and Coconut and Macadamia – the latter our favourite although we're hard pushed to pick. The bars are handmade and cold-pressed with a rich texture and flavours that don't overpower, yet are distinctive and readily identifiable (just like real food should be.)
Nutritional values vary slightly across the range but again taking Apple and Pecan as being fairly representative they will serve up 199kcal, 4.2g protein, 19.4g carbs (16.9g of which are sugars), 11g fat (0.9g saturates), and 3g fibre per 45g bar.
Let's compare Primal Panty to a more 'traditional' bar: The much heavier (65g) Zipvit ZV8 Uncoated Orange bar offers 244kcal – so actually a much lower, adjusted for weight 169kcal – 4.7g protein (3.2g adjusted), 34.9g carbohydrates (24g adjusted), 7.2g fat (4.9g adjusted) and 10.3g fibre (7.1g adjusted). A little more bang-for-your-buck on carbs but if you don't fancy emulsifiers, wheat gluten, wheat malt, glucose syrup, invert sugar syrup and maltodextrin then Primal Pantry Bars look like an obvious choice.
Actually to be clear – and fair – the composition of the ZV8 bars is fairly typical of energy bars across the board and they have their place and use (we've fuelled plenty of miles on them) but Primal Pantry clearly offers something both new and radically different.
Primal Pantry Bars retail at £27 for a box of 18 – £1.50 per-bar, not only spot on for a comparative price point but actually something of a bargain when you consider the quality of ingredients and homemade credentials. Boxes are available either in single flavour or as a mixed box with three of each flavour plus three extra, which Primal Pantry call their 'random surprise.'
Further details and online purchase of Primal Panty Bars at primalpantry.com