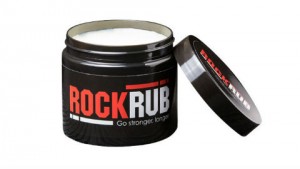 Rock Rub is a rather odd thing, but like many odd things we've sort of fallen in love with it.
The basics: Rock Rub is either a massage wax or a callus-busting moisturiser for your hands or possibly both. If you looked at the strap-line on the jar – 'Go stronger, for longer' – you might get a third, more Fifty Shades, impression. The confusion comes in depending on whether you check out the wax on the US website or its UK counterpart; in the US, Rock Rub is predominantly sold on the basis on its hand-moisturising strengths whereas in the UK it would appear we're not quite ready to admit that rough hands are something that need dealing with. Weird, but there you go and in fact Rock Rub is pretty damn good all round.
The reason why Rock Rub works well as both a moisturiser and a massage aid is down to the ingredients of course. Beeswax (Australian beeswax to be specific, although we don't know if that's significant) forms the base along with canola oil, to which is added vitamin E, patchouli, lavender and the mysterious sounding ylang-ylang. It's really the latter – along with the vitamin E benefits – that make Rock Rub so good for the skin, whilst the beeswax, with it's slightly 'tacky' qualities that make it so well balanced for massage, particularly myofascial release.
Whilst we had feared that patchouli and lavender would be an overpowering combination, the smell is actually subtle and, most importantly for massage, the consistency remains constant during treatment and a little goes a surprisingly long way.
So whether you're looking to soften those cycling hands or just get some much-needed massage in before that next long ride, Rock Rub pretty much hits the spot. We're glad to have cleared up any confusion…
Rock Rub is available in 50g pots at £6.72 or 400g pots at a really reasonable £14.99. Further details at shop.rocktape.net