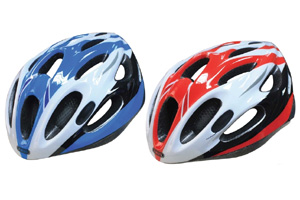 Is it really possible to pick up a decent bike helmet for under £30? There was certainly a time when spending this kind of money would have involved a trip to a discount bike-shop for a bundle of  ugly bulk and utilitarian polystyrene, but the Abus Airflow has certainly proven Cyclo's expectations wrong serving up a helmet that's not just great for the money, but quite simply… great.
The Airflow is sleek and attractive without being (or looking) over engineered and weighing in at 287g stacks up well against helmets at nearly double the price. The lack of bulk naturally adds to comfort but this is helped along by the inner rubberised cradle which, whilst hardly a thing of beauty (who cares, it's out of sight), sits incredibly easily during the ride giving the slight feeling of a free-floating lid. The 'Zoomlite' ratchet dial is the simple one-stop shop for tightening and loosening everything which may not give the endless adjustment permutations of top of the line helmets but is quick, reliable and lacks fuss and nonsense.
14 air vents keep things cool and with the front three offering protection with an integrated bug mesh you should end your ride with fly-free hair (or at least as fly-free as you started.) The Airflow comes in two sizes: S-M (52-58cm) and  M-L (58-62cm), and in a choice of three colours (blue/white, red/white and black) all with reflective detailing.
At £29.99 the Airflow is a downright bargain and an excellent all-round choice that delivers on comfort, weight and adjustability fronts too.
Further details and to find a local retail see www.zyro.co.uk