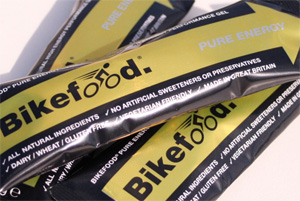 What sort of food do you need on a bike? The obvious answer, of course, is 'bike food' which should make the handily-named and easy-to-remember Bikefood Pure Energy Gels a shoe-in of a choice when it comes to the crunch. But having nabbed the best name and web address (mybikefood.com) do they stack up in the areas that really matter?
For those that care about such things (which Cyclo hopes is all of you) these live up to their 'Pure Energy' tag; containing no preservatives, artificial sweeteners or thickening gum agents and delivering all of their 117.2kcal per 40g pack via natural sugars; a blend of honey – the primary source – plus agave syrup and carob. The decision to pack them with sugars results, in addition to an incredibly sweet taste that won't suite all palates, in a relatively high carbohydrate content of 28.8g.
But fear not the idea that sugars alone can result in peaks and troughs of energy (the dreaded 'sugar crash'); the theory goes that because the sugars here are derived from a variety of sources – as opposed to simply fructose as an example – the energy release is both staged and sustained; something we certainly found in testing. With a dash of lemon oil added to the mix, these undeniably tasted like Lockets which, whilst not unpleasant by any means, made for a slightly nostalgic ride with connotations of missed school days. Also worth noting that this is virtually a carb-only gel; just .05g of protein, nowhere near enough to make any difference to absorption rates.
As suggested already, Bikefood Pure Energy won't be to everyone's taste and anyone who struggles to digest other brands' already sweet gels should probably avoid. But for our part Cyclo enjoyed mixing things up on the ride and using Bikefood in conjunction with other energy sources and gels; the natural and vegetarian (though not vegan) credentials were welcome and the approach to recycling – via Gelwrappers.com where returned wrappers from any manufacturer get you entry into a monthly prize draw – is a fun and useful initiative.
Bikefood Pure Energy Gels takes an unusual and welcome approach to serving up sustained levels on the ride – a product for those who care about what they put into their body and what they don't drop all over the road. Retailing at £1.45 each or £33.75 for a box of 25. Further details at www.mybikefood.com