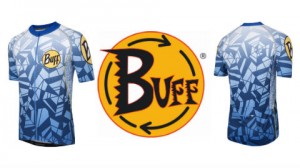 Buff have long been the go to manufacturer of seamless multi-use headwear – the name comes from 'bufanda', Spanish for scarf, so now you know – and in our opinion their tubular-knit hat/bandana/muffler is one of the most versatile bits of kit a cyclist can own. With this in mind our expectations were high when we took delivery of their brand-new tech cycling jersey…
As you would expect from Buff there's nothing in the design that could realistically be called 'understated' – not a square-inch of fabric is left unadorned, with a combination of jagged geometric shames, spider webs and logos making a bold 'look at me' statement. Assuming you're not the shy, retiring kind of rider what does it offer beneath the surface sheen?
Slim-fitting and made from 95% polyester, 5% elastane (the generic name for Spandex), the jersey is naturally longer in the back for fit, warmth and to prevent 'riding up', something further halted by the inclusion of rubberised tape around the hem/waistband. On test it felt warm enough on cool rides and breathed well and wicked away sweat when the heat was on, not least due to thinner ventilation areas incorporated through the armpits and sides (basically the spider web areas). The addition of Silver Plus® – a silver ion technology incorporated into the fabric – makes the jersey effectively antibacterial, so if sweat does build up it won't become a breeding ground for stench.
The level of comfort impressed us too: flatlock seams throughout are compliment by bonded seams across the shoulders – all of which reduces the risk of chafing and a nice touch is the tiny 'zip garage' at the top so when things are zipped to the max there's no snagging or catching.
Additions include three generous lumber pockets for gels, bars and general cycling detritus and a fourth, zipped, pocket on the lower back big enough not just to house keys and change but a full sized wallet should you be heading for the bike shop… Reflective seams around the shoulders add a dash of safety – but a little more across the back probably wouldn't have gone amiss.
A practical, well-made and stylish (if slightly hallucinogenically branded) jersey – in short, everything we might expect from Buff. Available in sizes S – XXL and tagged at £69.00. More information and online purchase at buffwear.co.uk
See the Cyclo review of the original Buff here and the Helmet Liner Pro Buff here.