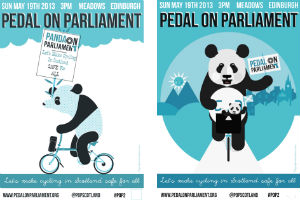 Yesterday (Sunday, May 19) saw thousands of cyclists descend on the Scottish Parliament at Holyrood as part a campaign, supported by Olympic legend Chris Hoy and 'The Flying Scotsman' Graeme Obree, calling for 5% of Scotland's transport budget to be spent on cycling. Pedal on Parliament, who describe themselves as, 'a grass-roots group of cyclists of all kinds who want to see Scotland become a place where everyone can cycle safely and enjoyably,' claimed some 3-4,000 cyclists look part, whilst police estimated just 2,500 participants. Beginning at 3pm with a minute's silence to remember those who have lost their lives on Scottish roads, the cyclists headed for Holyrood through the centre of Edinburgh and down the Royal Mile.
Reiterating the campaigns 'everyman' approach, David Brennan – one of the Pedal on Parliament organisers – told the assembled crowd: 'We aren't "cyclists", we're everyone – from the mum taking her children to nursery to the road cyclist doing 100km at the weekend… But we're also the kids in the back of the car looking wistfully out of the window because their parents can't risk them riding to school, the people who drive to the gym to ride on stationary bikes because the roads are too fast and busy.'
The campaign's manifesto is calling for:
Proper funding for cycling.
Design cycling into Scotland's roads.
Slower speeds where people live, work and play
Integrate cycling into local transport strategies
Improved road traffic law and enforcement
Reduce the risk of HGVs to cyclists and pedestrians
A strategic and joined-up programme of road user training
Improved statistics supporting decision-making and policy
Further details can be found at pedalonparliament.org