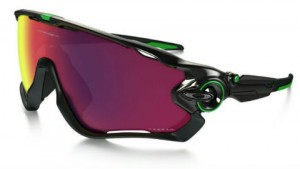 The Oakley Jawbreaker is a collaboration between one of the world's biggest names in eye-wear and Mark Cavendish, one of the biggest names in cycling, but the results are likely to leave people as polarised as the company's legendary lenses…
'Aggressive' is the adjective most often used to describe the aesthetics of Oakley's output – there are a few exceptions such as the sleeker RadarLock range – but for the most part there's a somewhat bolshie angularity to their glasses and the Jawbreaker is no exception. The first thing you'll notice about the Jawbreaker is the size – these are true XL glasses that provide an exception field of vision; they appear disproportionate without a helmet, but once suited up it all falls into place (guess Cav and Oakley really do know what they're doing…)
Comfort levels are exceptional here with weight coming in just under 35g – the lower frame is perfectly curved to sit snuggly against the cheeks and the arms are hinge-locked to provide a range of lengths to fit perfectly under any helmet. The downside here, particularly if you are reckless enough to try and adjust them on the fly, is that it's possible for the entire arm to disconnect with catastrophic results.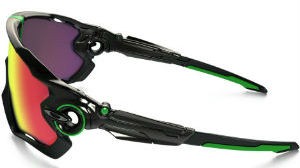 The Jawbreaker has a hinged lower frame that gives them their somewhat aggressive (there's that word again) name for fairly quick lens switching, which is only fiddly on the first couple of tries. Ruggedness has been upped by the addition of a tiny metal cam, which sits behind the rubberised nose bridge, and replaces the more traditional weakest link plastic affair on other Oakleys.
As you would expect from Oakley, when it comes to the lenses they are outstanding with a range of tints and polarized options for every conceivable condition (conceivable, so long as you have the budget of course with additional lenses starting at around the £70 mark.) On the subject of price – the Jawbreaker starts at £170 – we still feel slightly short-changed that Oakley only adds hydrophobic coating to the outside of the lens but will happily sell you, for £17, the Nanoclear treatment for inside application. Also the specific Oakley Jawbreaker Cavendish Edition – with the dinky CVNDSH logo on the lens – is at a premium of an additional £20…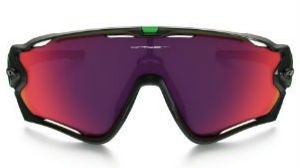 The Oakley Jawbreaker clearly brings plenty to the table, not least a slightly old-school aesthetic, and if you want the added kudos of wearing glasses that have had input from Cavendish then these are the sunnies for you. Venting is excellent, optics uncompromising, and comfort superb – if you can live with 'aggressive' and are willing to spend upwards of £170 these won't let you down.
Further details of Oakley Jawbreaker at oakley.com – available online for purchase from, amongst other places, Wiggle.co.uk