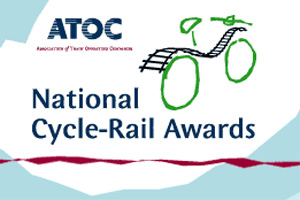 Getting a bike on a train used to be such a complex and disheartening experience – a single space if you were lucky and got there first; getting stuffed into a guard's van and rattled to your destination. Things have certainly changed in recent years, at least judging by the results of this year's National Cycle Rail Awards, which is run by the Association of Train Operating Companies (ATOC) and aims to recognise the achievements of operators, "associated industry groups" and individuals in encouraging the combined use of track and pedal.
Commenting on the 2011 awards Michael Roberts, Chief Executive of ATOC, said: "Train companies and the rail industry as a whole are committed to improving and developing cycle-rail provision, as cycling plays an ever more important role in Britain's growing railway. We have seen a record number of entries to the Awards this year, not only from train companies and other industry organisations but from cyclists themselves. The consistently high standard of entries reflects a real commitment to improving facilities which both help those who have already decided to cycle, and encourage more people to opt for 'saddle and train'."

This year's winners included South West Trains, which has improved cycle access for around half of its passengers through the introduction 1,500 additional cycle spaces, three cycle hire schemes and the installation of six new secure cycle compounds across its stations. The operator has also launched the Brompton Bike Dock, the first solar-powered vending machine for folding bike hire – introduced at Guildford station as part of a pilot scheme; it will be rolled out across other stations and networks if proven to be successful.