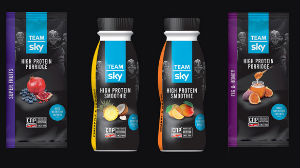 Team Sky have joined forces with nutrition brand CNP to launch their first range of nutritious, high protein breakfast products. The Team Sky High Protein Porridge and Team Sky High Protein Smoothies, which have been jointly developed with CNP's nutrition experts, will initially be available in selected Tesco Superstores and from the CNP website.
Each serving of the High Protein Porridge – which comes in Fig & Honey and Super Fruits flavours – contains 12g of quality protein and includes fibre in the oats that contribute towards natural maintenance of normal blood cholesterol levels. The High Protein Smoothies, which are packed with 26g of high quality dairy protein and flavoured with fruit juice, come in Pineapple & Coconut and Orange & Mango flavours. The High Protein Porridge retails at £3 and the Smoothies at £2.50.
Team Sky's Head of Nutrition Nigel Mitchell said: 'Breakfast is the most important meal of the day and this innovative range of great-tasting, convenient and widely available products is very exciting. Both the Team Sky Porridge and Smoothies contain a rich source of high quality protein, complex carbohydrates and fibre that will help provide a slow release of energy to keep you energised and feeling fuller for longer.'
Online purchase at cnpprofessional.co.uk
Read Cyclo's Nutrition Talk feature with Team Sky's Nigel Mitchell here.