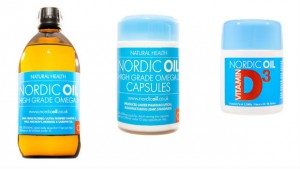 Omega 3 oils, it would seem, are useful at almost every stage of life, but because the body doesn't produce it naturally we need to find either a rich dietary source or through supplements such as those produced by Nordic Oil. As a 'modern diet' is so often lacking in Omega 3s of sufficient quantity or quality, the latter is invariably the better option.
Nordic Oil uses only premium quality Omega 3 oil sourced in deep, clear waters from cold-water anchovies, herring and sardines (some of the best sources available) and 'deep' and 'clear' are key for a rather odd reason. The fish themselves are no more capable or producing Omega 3 that we are, instead they get it in turn from their food source (often krill) and the better quality the water, the better the fish food, the better the fish, the better the Omega 3s… the better the product. Phew.
Nordic Oil produce a range of products which includes the bottled High Grade Omega 3; it's cold-pressed and triple-filtered, which improves both purity and quality, and if you're concerned about the taste (memories of childhood?) the edge is somewhat removed with a dash of natural lemon flavour. If supplementing with capsules looks like a more attractive proposition the Nordic Oil 1000mg capsules go down easily but deliver less than half of the EPA and DHA (the two key components of Omega 3) that the straight-from-the-bottle oil serves up. They are still a solid option when you consider that at least part of your Omega 3 requirements are likely to be being met through diet alone, especially through 'oily' fish, soybeans, walnuts, flax, etc.
Omega 3 provides a range of benefits, but to be (very) reductive it reduces stress (systemic not mental), which can be particularly beneficial to endurance athletes. However it has been subject to controversy in 2013 with large sections of the media have had a field day with 'links' between supplementing and an increased risk of prostate cancer. Almost all of this has been the result of media misrepresentation and a lack of understanding of results (by the press) but if you want to do your own research – and if you're going to stick something in your body Cyclo would always recommend you do – then the abstract from the Journal of the National Cancer Institute that inadvertently kick-started it all can be found here.
Public Service Announcement over – we can probably get on with supplementing and being healthier, happier cyclists. Nordic Oil High Grade Omega 3 500ml bottles retail at £26.99 (£15.99 for 250ml) and 60x1000mg Omega 3 Capsules – a month's worth – RRP £9.99. Further detail and online purchase at nordicoil.co.uk
Vegetarians looking for a supplementary source of Omega 3 might consider a product like Chia – take a look at the Cyclo review here.