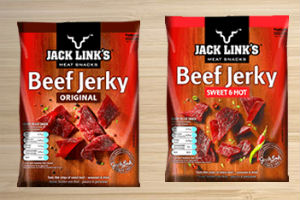 If there is one thing here at Cyclo we like almost as much as riding the bike, it's food. Before, during, after the ride – and as much as we can happily recommend a number of bike nutrition solutions (take a look at our reviews of Bikefood or Shot Bloks for example), it's often 'real' food we crave in the saddle. Enter then Jack Links Beef Jerky, quite possibly our favourite new snack…
Beef Jerky? On a bike? Where's the carbs? Actually there are some – around 17g per 100g of snack – which is barely significant compared to something like a High5 Energy Gel say, which would boast closer to 70g per 100g (roughly 3 gels worth) but what is significant here is the protein content, so often overlooked when it comes to exercise. Protein is useful (arguably essential) for several reasons: some of the amino acids in protein help your body absorb carbohydrates; protein is essential to recovery – a process that can be started whilst still exercising. Jack Links Beef Jerky delivers a not-unreasonable 46g of protein per 100g.
The science aside, here's the thing: Getting food, of whatever protein/carbohydrate ratio, down you during exercise is a whole lot easier when it tastes great and Jack Links Beef Jerky certainly does. With a reputation for care and attention they make these snacks from only the choicest beef and at just 3% fat it's a winning formula. Beyond the original flavour there is also the Sweet and Hot variety which, although undeniably tasty, are lower on carbs (just 12g per 100g) and which we found slightly dehydrating on the saddle so perhaps best saved for post-ride refuelling.
If you want more there's also Beef Steak Bites (25g carbs, 34g protein per 100g) and their Teriyaki variety (18g carbs/36g protein) both slightly higher in fat at 4%, plus equally delicious Chicken Bites Flamin´Buffalo Style or Curry (12g carbs/32g protein and 4.8g fat). But for our money the Beef Jerky originals are where it's at for adding both taste variety and a useful dose of protein to your ride.
Just a couple of minor words of warning: first if you're looking for gluten-free the original flavour isn't, whilst the rest of the range is. Secondly, if you are a true purest, note that the full range, apart from the Beef Stake Bites, contain the flavour enhancer MSG and thirdly take care: each pack contains an essential (but very easily swallowed if you have your eyes on the road) non-edible sachet of oxygen absorber to maintain freshness.
Cautionary note noted, we couldn't recommend Jack Links Beef Jerky highly enough, great on the ride, great for recovery afterwards.
Widely available on line in both 25 and 75g sizes, more information at jacklinks.info