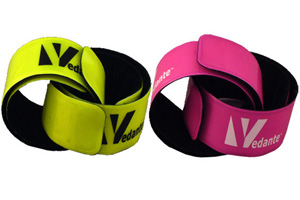 Sometimes the simplest solutions are clearly the best. Such is the case with the Vendante Pop Bands, uncomplicated reflective strips that can be 'snapped' onto arms or legs for instant reflective safety. Created by Barbara Kantor – who founded her company 5 years ago after witnessing an accident – the Pop Bands are made of highly reflective 3M Scotchlite (the go-to product for most on-garment sports reflectives) which are flexed across their width to straighten then tapped against the arm/leg to wrap them firmly in place without the need for Velcro, or similar fastening.
Available in a range of colours for the fashion-conscious – blue, green, orange, pink, white and yellow – the latter two provide the greatest margin of safety, reflecting up to 450meters, although even the other four will provide 130meter reflection. The bands, sold in sets of two (for around the £12 mark online) and come in two sizes: medium at 30cm and large at 38cm.
Although other, sometimes cheaper, 'snap-style' bands are available, the Vendante are, in Cyclo's opinion, the best on the market – less expensive versions have, in our experience, been prone to flimsiness and over an extended period lost their 'snap'. You can add as many lights to your bike as you like (within reason we'd recommend that you do) but the biggest target area on the bike is your body and the ability to transform whatever you are wearing into a safety garment, particularly in the event of sudden deterioration in weather when you can be caught out without lights, is invaluable.
Vendante Pop Bands are distributed in the UK by 1000Mile, see store.1000mile.co.uk for details and purchase.