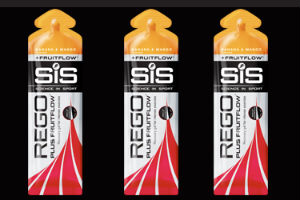 Science in Sport (SiS) have announce the launch of their innovative new SiS REGO + Fruitflow® gel, designed to aid faster recovery and consequently allow athletes to train to a higher level than they were previously able to do. The first of its kind in the UK, SiS REGO + Fruitflow® is an easily-digested recovery gel specially designed to help reduce the muscle inflammation caused by intense exercise by helping to reduce the overstimulation of blood platelets during exercise – which, in turn, helps to contribute towards healthy blood flow. To achieve this the gel employs Fruitflow®, a tomato extract containing naturally occurring tomato compounds which can beneficially interact with blood platelets and counter the coagulation effect of adrenalin and a protein called thrombin which are produced during strenuous exercise.
Commenting on the launch Luke Heeney, New Product Director at SiS, said, 'Our commitment at SiS to helping athletes perform better through effective, scientifically underpinned nutrition has led us to launch this new recovery gel. We are delighted to be adding it to our successful REGO recovery range…'
Designed to be taken between one-and-half and three ours before exercise, SiS REGO + Fruitflow® comes in banana and mango (combined) flavour, in 60ml sachets and do not require additional water. They are available to buy at an RRP of £2.29 in selected specialist sports stores and online at scienceinsport.com
Cyclo will bring you a full review soon.