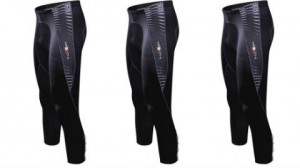 Come on people it's time to get those legs under wraps, it's no longer the weather to have those beet-red thighs on show. Cyclo certainly welcomed the arrival of the Funkier Winter Thermal TPU Tights and the opportunity to put this fine looking apparel through its paces…
First up some tech spec: the 'TPU' in the Funkier Winter Thermal TPU Tights refers to thermoplastic polyurethane which is effectively laminated on to other technical fabrics to produce a membrane that is both extremely breathable, yet 100% waterproof. The result is a fabric that has microscopic pores 1000 times smaller than a drop of water but, crucially 100 times bigger than a molecule of moisture vapour. That and – we suspect – some magic because the result is spectacularly good at its job.
Riding both road commute and mountain bike trail (sans-mudguards) through deep puddles and more than one torrential rainstorm the Funkiers performed admirably when it came to keeping us bone-dry; but more importantly there isn't a feeling of being cocooned in thick tyre-rubber. The zoned panels put protection where it's most needed and give way to greater flex where it's not, so there's almost a second-skin feeling to wearing them with no restriction of movement.
Thermal properties have impressed too. Having used them near zero – a two or three degree average – we're more than confident that they'll see us through some harsh winter sub temperature rides. The soft flock-like lining keeps things just toasty enough and adds greatly to the comfort and, because the TPU breathes so well, there was no sweaty build-up. The saddle pad is more than adequate without unnecessary bulk and the ergonomic design very comfortable even on longer rides.
Funkier Winter Thermal TPU Tights retail at £69.95 absolutely on the money for quality and whilst something like the Altura Night Vision Tights could be yours for around £20 less the Funkier option undoubtedly out-performs them for both thermal property and weather-proofing. In fact you would need to go a long way up the price points (into Castelli land) for anything near comparable.
Funkier Winter Thermal TPU Tights are available in sizes S to XXXL from, amongst others, globalbike.co.uk