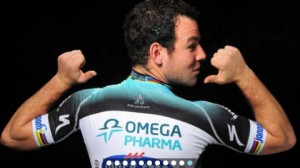 Race organisers at the Boxmeer Criterium in Holland have said that Mark Cavendish is no longer welcome at the event and have withdrawn his name following the controversial collision between the Omega Pharma-Quick Step sprinter and Dutchman Tom Veelers in the closing seconds of Stage 10 of the Tour de France on Tuesday. TdF organisers absolved Cavendish of blame, but heated debates have rumbled on.
Dutch news agency ANP are reporting that Cavendish will not be allowed to compete in the one-day event, which takes place on July 22, the day after the TdF finishes, with organiser Twan Poels telling NOS television, 'I saw the images of the sprint on the television and together with the committee I decided to withdraw Cavendish from our list of participants," organiser Twan Poels told NOS television… The jury may think that he was not responsible for Tom Veelers' fall. We think the complete opposite.'
Despite his current performance in the Tour, not a good week from the 'Manx Missile' who, inexcusably, had urine thrown over him by spectators during yesterday's ITT stage. In an attempt to laugh the incident off Cavendish subsequently tweeted: 'Well I think the apple juice looks far from appetising for me tonight… And I'm not taking the piss. Did that once already today. #standup'
For more on Cavendish's tweets (and responses) to the collision with Veelers click here.