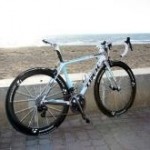 The Leopard-Trek team was officially presented to the world in grand fashion on January 6th and to casual observers, everything was in place just as it needed to be. In addition to the riders themselves, team officials also unveiled their tasteful-looking black, white, and sky blue road and time trial bikes plus the similarly elegant kits they would be wearing in competition starting with the Tour Down Under later this month.
The fact that the team will have such a polished appearance is impressive on its own but what's even more astounding is that it happened at all given the incredibly accelerated timeline on which team backers had to operate. According to Trek road brand manager Nick Howe, even Trek – the team's co-title sponsor and main equipment supplier – wasn't made aware of the final team name until mid-December.
As a result, Trek – along with clothing sponsor Craft – not only had to finalise the design for the bikes, kits and helmets but also build, paint, and deliver those items in less than 10 days along with all of the marketing collateral and essentially much of the image and identity of the team itself.
A more typical timeline is closer to 30-45 days just for the design work.
cycling from Lina Jelanski on Vimeo.
"It's not just a kit or helmet design," said Howe. "It's the helmet, it's the bike, it's the website, it's the video, it's the identity on our web site, it's building that page, it's putting together a marketing campaign that tells as many people as we can, 'this is what we've done', and gets the message out – that work almost supersedes the bike design. It's an amazing amount of work and a really large amount of people killing themselves to do it."
Compounding the issue was the number of framesets the company had to deliver by the first team camp: around 100 in total, according to Trek road product manager Tyler Pilger, with every frameset requiring around 10 hours of labour to prep and paint on top of actual manufacturing time. And that's just road framesets – time trial bikes aren't even counted there and both numbers will only grow as the season progresses.
Each of the nearly 30 riders on the roster will have a race road bike, a home road bike, and a race time trial bike. Plus many riders will have a spare of each – or even multiple spares – and then there are even additional framesets that are kept in reserve.
Rapha Continental | Vail to Vail from RAPHA on Vimeo.