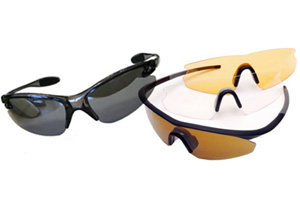 Cow poo, gel wrappers and bees. Just some of the things that haven't hit me in the eye recently. A pair of shades isn't just for looking good (though it helps) but as they say that the eyes are the windows of the soul I'd rather not get stuff all over my windows thank you. Yet sunglasses – just like umbrellas – are something you never fully own, they're just on loan to you until you leave them on a fence/train/pub table. For this reason Cyclo has been looking at two similarly priced and styled sets of budget glasses.
The dhb Triple Lens are certainly not the most technical accessory in the world but they are tough, well appointed and light on the face. The three interchangeable lenses – grey for bright sun, blue for enhanced contrast conditions and clear for when you want them to act purely as a windscreen – repel sweat/rain well and are, naturally 100% UVA and UVB absorbent. Switching one lens for another is tricky (certainly not something we'd relish doing mid-ride) and puts the kind of strain on the frame that seems likely to be the way of their final destruction. In comparison the Madison Vision d'Arcs Triples ship with three lenses (dark for sun, yellow for low-level, clear for windscreen mode) that are much easier to clip in place but we found a far greater level of image distortion here which hinted at the budget nature of the optics. Both the dhb and Madisons, which have straighter arms, fitted well and stayed put and both had good wrap-round protection – in Cyclo's opinion the Madisons were more inclined to pinch slightly above the ear but this is, of course, open to individual experience.
Naturally try before you buy but for our money the dhb have the slight edge over the Madisons.  At around £25 for the dhbs and £30 for the Madisons clearly neither are in the league of the upper reaches of, say, Oakley but they do the job well enough and are less likely to provoke tears when you leave them in a pub garden.