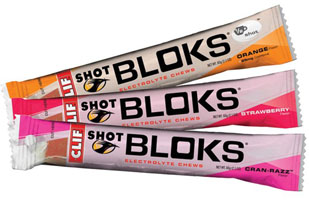 Okay hands up anyone who actually likes the taste of sports gels? Anyone? Anyone? Quite so, and with only the odd exception (we quite like the taste of High5 Berry Flavoured IsoGels) Cyclo agrees. So imagine our delight when we tried out Shot Bloks from the ever-reliable Clif Bar makers, which are available in three pretty palatable flavours – Mountain Berry, Orange and Strawberry. Okay, so we're not suggesting serving these up as canapés pre-dinner, but they are (particularly the Mountain Berry) jolly good. Quelle surprise!
Taste, of course isn't everything so how else do Shot Bloks stack up? For a start the thing that sets them apart is that they are a semi-solid chewable source of electrolytes and carbohydrates (50/50 mix of simple and complex) with each pack containing 6 little blocks (bloks?) each delivering approximately 8 grams of carbs meaning that for their weight and pack size they total around double the values of a traditional single gel pack. The other advantage – besides being far less messy than liquid gels – is that, if you so wish, you can simply nibble a little cube every 10 or 15 minutes to drip-feed your bodies needs rather than necking a gut-load every 30minutes to an hour.
As with all Clif products there is nothing artificial in terms of flavours or sweeteners on offer here and they use a combination of natural Carnauba wax and pectin (a fruit extract) rather than gelatine making them suitable for consumption by vegetarians. The wax/pectin has one other slightly surprising advantage: there is a noticeable consistency in texture across a really wide range of temperatures, we've even used them in daytime temperatures topping out at 45°c and they've still held their own. If you're looking a little extra boost the Orange flavour also packs in 25mg of caffeine per pack, but we have to say this was our least favourite, with a slightly bitter aftertaste.
RRP around £2 with more information at: www.clifbar.co.uk