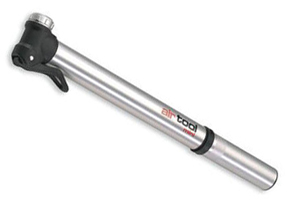 The Specialized Airtool Mini is one piece of kit that Cyclo can, without question, describe as having been seriously put through its paces, mostly because it's been our on-bike in-a-crisis pump of choice for several years and so has rarely been off our radar.
Now, at a tiny 25cm you probably wouldn't want to use this as day a day to day pump – it takes an age to fully inflate a new inner and the flat grip end is positively blister-inducing for extended use – but weighing less than 100g it's near faultless for roadside emergencies. With an aluminium handle shaft and chamber it ships with a bottle boss mount and can even, according to Specialized, "fit in a jersey pocket" – though to be honest we'd hate to meet anyone with a jersey quite that big.
The locking head (a good secure fit without any sign of leakage) converts from presta to schraeder valves and a neat added touch is the cap end which unscrews to reveal a glueless mini-patch and micro sandpaper. On a pedantic point the manufacturers did claim that it came supplied with mini-patches (plural) rather than the measly single patch that ours contained, but the compartment is nonetheless a fun bonus feature that could even be used for squirreling away a jelly bean or two to cheer yourself up in the event of a flat.
The newest iteration from Specialized has a very sleek carbon fibre-effect finish (Cyclo's is brushed-metal but still, we think, pretty classy) and at less than £15 remains an utter bargain. Despite its size and weight the airtool mini is also surprisingly robust. Ours has survived more than one quite spectacular wipe-out and even remained un-dented when dropped from a third floor window. The latter not so much a controlled experiment as a freak accident, the details of which are too embarrassing to recount.