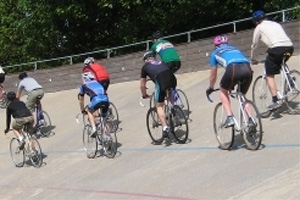 Cyclo loves to hear good news. It would appear that the Herne Hill Velodrome, the last remaining venue from the 1948 London Olympic Games still in active use, has been rescued creeping disrepair and potential closure following an agreement to sign over a new 15-year lease. For a number of years the iconic venue has been forced to operate on a series of rolling single-year contracts that have made it impossible for the trustees to commit to the much needed renovations.
Speaking to the BBC Peter King of British Cycling (and one of the original Herne Hill trustees) commented: "Now that we have secured the terms for a 15-year lease we will be able to do the repairs, which means resurfacing the track, and repairing the fencing, to enable the track to perform properly again."
As the track at which the likes of Bradley Wiggins began their career it is hoped that Herne Hill will be able to play a role in the 2012 London Games – not, of course, as either a competition venue or even training facility – but as a place for those inspired by the Olympics to enjoy grass-roots entry in to the sport.
For more information about Herne Hill Velodrome visit www.hernehillvelodrome.com