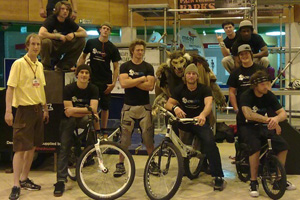 Andrei Burton is one of the world's top elite trials riders. He competes for the Great Britain Cycling Team in the UCI Trials World Cup, World Championship and European Championships and runs a successful team events company showcasing a breathtaking mix of free-ride, trials and parkour. Cyclo caught up with Andrei during his hectic schedule to find out exactly what drives him…
Cyclo: How did the cycling bug bite?
Andrei Burton: I started riding bikes just like any other kids, to school and in the evenings with friends. When I was 13 I was riding in Exeter high-street and saw some guys jumping down (and more impressively) up steps. I couldn't work out how they were doing it, but I got chatting to them and over the next few weeks I started riding with them after school. In no time at all I was hooked. I begged my mum to take me to the MBUK urban tour, to watch Martyn Ashton and Martin Hawyes in action. After seeing their incredible riding, I rode every day. It was pretty cool to compete against them a few years later!
Cyclo: Who inspired the younger Andrei?
AB: To be honest I think my inspiration initially came from the challenge of riding itself. It really gave me something to focus on and push myself with. Now I look at trials riders like Kenny Beleay who manage to do a lot of shows and work hard, as well as train and stay on top of the game! I also draw inspiration from other sports like climbing and free-running.
Cyclo: How quickly did you realise that two-wheels was a potential profession?
AB: I never really thought I could make a living out of riding bikes (I still don't!) But when I was 16 I had to make a choice, eventually go to college/uni and not ride/compete or get a job or leave home and ride as much as possible. I chose the latter! I left home and worked as a bike mechanic for 5 or 6 days a week and rode competitions on my only days off. Gradually I was asked to ride at different events and increasingly I had to take days off work until I was barely working in the shop. Here I am today, riding full time for 5 years and loving every minute of it.
Cyclo: How did solo achievements expand into running a team and taking things global with the shows?
AB: I wanted to try and do more for other riders and athletes. I know what a huge difference doing shows made to me in the early days: for an individual to do something well and excel at it, they need to put their whole focus into it. One of my team members was working in a high-street shop for almost nothing at very anti-social hours, just so he could train in daylight! It seemed crazy to me, so I started trying to get more shows for him and now he doesn't need to "work" so much. By using these guys in my shows, I know that they could make a difference to some members of the audience and that could change there lives, just like when I saw the Urban Tour all those years ago.
Cyclo: What's your training regime like?
AB: I train pretty hard. For the last few years I was hitting over 40 hours a week pre-season. Now I try to limit myself to 30 hours as more than that is actually hard to recover from and improve. On top of that I climb, play squash and ride a superbike.
Cyclo: Tell us about the world record.
AB: I had a call from Guinness asking if I would be interested in attempting any world records for their new TV series. I gave them a few options, and unfortunately they chose to go with the 180 degree record! I say unfortunately as I had never actually done it, or tried it before I spoke to them! I had just a few weeks to prepare for it, but I had far too many shows and competitions so I couldn't really practice specifically for it. My first attempt was pretty funny, I did about 6 turns, then felt so sick and dizzy I had to sit down for 20 minutes. I thought, "This isn't going to be so easy!" So I practiced in shows for a bit, set up part of my rig so that I could try it out a few times. The crowd loved it too; getting them to count along with each turn. Fortunately I managed to break the record first time for the TV show. And then I broke it again for Children in Need the following year, but I don't think that has been certified by Guinness yet!
Cyclo: And the bid to make Trials Riding an Olympic demonstration sport for the 2012 Games.
AB: I was hoping to set up a competition for the Olympics to show how good trials can be as a spectator sport, but at the moment trials is not unified and well-known enough for it to happen. But I am planning a big event next year which will have an Olympic theme and will involve the best riders in the world!
Cyclo: What do you consider your greatest achievement?
AB: A tough one to answer, to be honest I don't think I have achieved it yet! I was happy with the world record and I am happy with a few of my results. Being on the podium in Japan was a great achievement, and every time I make a world cup final (top 8 riders) I'm really happy.
Cyclo: What's next for you?
AB: Training, having fun and doing more shows. I want to continue to expand the events side of my company and do more to encourage the next generation to get out and be active. Also I am planning some world record attempts, but I can't say too much about them at the moment…
For further information on Andrei and for events details see: www.andreiburton.com