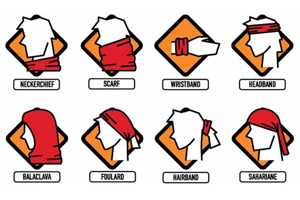 Could the Buff, a simple tube of colourful material, really be the most essential bit of cycling kit? Well no, you wouldn't get far without, say, peddles or a saddle, but once those essentials are out of the way it could well come in close behind. History has it that a keen off-road trials motorcyclist from Spain, Juan Rojas who had worked for more than a quarter-century in the textile industry, realised a need for a simple multifunctional garment that could be worn on or around the head in a variety of conditions. He eventually found a high performance microfibre that was breathable, moisture wicking and wind resistant and created a proprietary "tubular loom" knitting process for a seamless finish. The Buff – a derivation of the Spanish word "bufanda" meaning scarf – was born.
The microfibre construction means that the Buff keeps the head cool in summer (and wicks away sweat highly effectively) and reacts to cooler temperatures to keep the head warm under winter conditions and because it is seamless it is endlessly comfortable however you choose to wear it. And there are certainly a good number of ways that it can be worn from beanie, which fits under most cycle helmets, to Foreign Legion for keeping the sun of the back of the neck (high UV protection versions are available), to simple head-band or face mask for keeping bugs, dust and debris out of the mouth on tough off-road rides. Take a look at the video below for just a few examples.
Since their launch the range has also grown dramatically in include polar, reflective and visor Buffs amongst many others, but it's the original Buff that Cyclo is still truly in love with. Available in dozens or designs, it's even possible to order customised patterns (price on application) so long as you're looking for print runs over 25 units – so worth considering if you're influential in your cycling club.
A final word on the multitude of uses for Buff, and one that the manufacturers don't appear to advertise, Cyclo has used them on more than one occasion as a perfectly good clean-up cloth after a road-side chain adjustment or tyre change…
Buffs are widely available with prices starting at around £13.00. Essential.