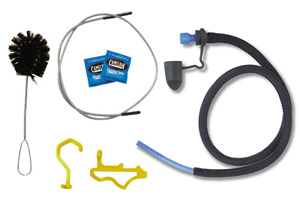 Hydration systems and packs, such as those produced by market leaders CamelBak, can be an excellent investment on a long ride. Not only do they allow you to carry more water (or sports drink) than a regular bottle, but the "to hand" nature of the drinks tube is likely to encourage more regular imbibing – "little and often" – rather than the all too common practice of riding for miles without drinking and then glugging to make up for it.
If you have taken the plunge and bought yourself a hydration system there are a number of useful additions worth considering. Firstly the Camelbak Thermal Control Kit (RRP £15.99) is worth considering for hard winter rides when, in the most extreme conditions, the feed tube can be become inflexible and even freeze. This simple solution is an insulated 42" tube (complete with bite valve and bite cover) that keeps things flowing at just the right temperature. It can also prove useful in hotter weather when the water in the main bladder may well be protected from the sun but the slug held in the tube has a tendency to heat up with unpleasant results. Basically whatever the extreme of weather the Thermal Control System comes in handy in our experience.
Adequate cleaning of Camelbaks can also be problematic and, if left to fester unused for extended periods, the results can cut your ride seriously short as you head for the nearest hedge. The Camelbak Cleaning Kit (£19.99) includes a two flexible brushes – one for the feed tube, one for the bladder, cleaning tabs (also available stand-alone at £10.99 for eight) and two hangers for drying the system out effectively.
Finally, and arguably for riders with more money than sense, there is the Antidote Insulated Tube with Flow Meter, which combines the insulating properties of the Thermal Control Kit with a nifty flow meter that gauges both how much you are drinking and how much still remains in the bladder – it can also be set to keep track of your "personal hydration goals". At £39.99 I think Cyclo might continue on without one, but would still highly recommend the Cleaning and Thermal Control Kits.