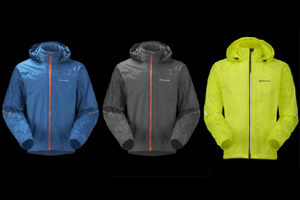 Montane have long enjoyed an incredible reputation for ultra-light gear and the Featherlite Velo H2O Jacket is, Cyclo thinks, such an essential piece of kit that it should ship with every bike purchased. The weight – or perhaps lack of – is the first thing you will notice about the Velo; the medium size hefts in at a mere 150g (5.3oz) with the large adding but a few grams to that. So what? You might think – anyone can make a light jacket, it just won't keep the weather on the outside! But here's the thing: The Velo does. And some. The shell is made from FREEFLOW® H2O – which actually means a 43g/m² 30 denier nylon with a PU coating – that keeps all but the mightiest of downpours at bay, is incredibly wind resistant those steep, fast downhills, but remarkably breathable on the long slogs up. When things heat up there are also good rear vents incorporated and when things get really hot the whole jacket packs down into its own mini stuff-sac, barely the size of a tennis ball, for easy stowage.
Want more? Being Montane's bike-specific model, the Velo is cut to fit the rider with a longer tail section than their other products, has fully taped seams for comfort and more than adequate 360° reflectives thanks to the incorporated 3M Scotchlite. The manufacturers recommend that to maintain the full water repellent properties that the Velo should be re-proofed every six months, for which they suggest Nikwax TX Direct widely available online.
The Montane Featherlite Velo H2O Jacket comes in three colour combinations – blue/silver, black/silver and yellow/silver, although the "silver" element in each combo is really just detailing. The jackets retail in the region of £80.00.