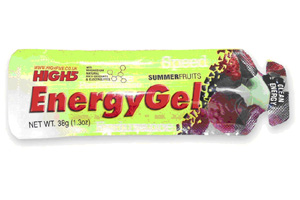 High5 have been around for quite some time and in addition to their other products, including their EnergySource 4:1 and Protein Recovery mix, Cyclo has long used their energy gel products that come in two basic types: traditional gel and IsoGel. The basic High5 Energy Gel is a strong concentrate with an intense rich flavour – available in apple (a Cyclo favourite), banana, citrus, orange and summer fruit – the consistency is thick, though no thicker than rival products, which does require a good glug of water to help it down. The 38gram sachets contain an ample 23grams of carbohydrate to keep you riding hard and for an extra kick caffeinated versions are also available, although we find these to have something of a bitter aftertaste.
For an easier time, and to avoid the need for taking water with your gel, the High5 IsoGel is a really neat solution. Although bulkier than the traditional gel coming in at 60ml (for the same 23gram serving of carbs) they naturally have a far thinner consistency, more like taking a tiny drink than trying to force down a thick gel – the flavour is less intense and the experience far less sticky than with the usual gloop. Available only in orange and berry (please, please can we have apple too?) there is, again, a '+' option which delivers the caffeine hit.
Unlike many gels the High5s are genuinely easy to open one handed, giving you no excuses next time you're head to head in a race. Both also contain the electrolytes sodium and potassium in just the right quantity to ensure efficient carb metabolizing. Both the Energy Gels and IsoGels are widely available online and off. Expect to pay around £20.00 for 20 IsoGels and £25.00 for 25 Energy Gels.