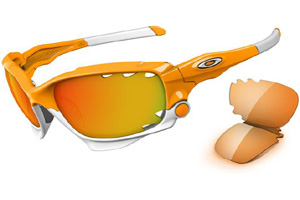 There's nothing more likely to give Cyclo that feeling of conflicting emotions than taking delivery of a shiny new pair of cycling sunnies. On the one hand there's the knowledge that they will make you (hopefully) look and feel good but on the other there's the underlying sense that they are something of an indulgence. And starting at £190 the Oakley Jawbones can unequivocally be described as such.
Having seen them sported by the likes of Lance Armstrong, Mark Cavendish and Thor Hushovd we certainly had high hopes for these unconventional looking shades and in most respects they held up well to testing. The lens quality is, as you would expect from these market leaders, excellent – offering 100% UV protection with superb hydrophobic properties, meaning they will repel sweat and rain rapidly. There is virtually no image distortion even at the very edge of peripheral vision and there are a good range of optional lens replacements available (at, it goes without saying, considerable cost) making them suitable for almost any ride conditions.
But it is this ability to switch lens that, in our opinion, begins to let this model down. The hinged lower frame swings away to let you flip out one lens and replace it with another (a feature that gives them their Jawbone moniker) but this feels considerably over-engineered and adds overall weight to the glasses, meaning they sit quite heavily despite a customisable nose bridge. It's a nifty sounding feature on paper, but in practice is far less successful.
If you're after a pair of glasses that will make you look like – even if not necessarily ride like – one of your cycling heroes then the Oakley Jawbones could be for you. Similarly if you are looking for frames that can accommodate a range of lenses (including prescription options) then again these might be for you, but make sure you try before you buy as the heft and weight distribution of these will certainly not suit everyone.