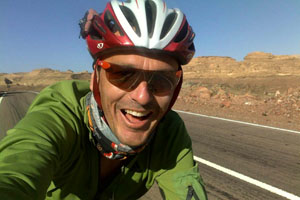 At 3.21pm on Sunday August 1, 2010, Vin Cox, champion cyclo-cross racer, mountain biker, mountaineer and long distance trekker peddled his way, after 29,000km, into the record books by circumnavigating the world on two wheels in just 163 days, 6 hours, 58 minutes. Never one to rest on his saddle, he now he has something else up his sleeve and this time he wants you to come along too…
Cyclo: Many cyclists will have dreamt about doing something like this – what was the tipping point when you realised you were actually going to go for it?
Vin Cox: I started researching the rules after a friend suggested it and I said it was a crazy idea. Something about the freedom the Guinness World Records rules allow made me look a little deeper into possible routes and strategies, and by then I was hooked.
Cyclo: The logistics seem almost unimaginable. How did you prepare?
VC: I spent about a year looking at possible routes and their associated weather, visa requirements, costs, and security issues. I started by researching previous circumnavigations, trying to learn and improve with every step. I still made many mistakes, but that effort paid off.  I didn't actually need many physical advance visas on my route; just Libya and India. Most places are visa-on-entry via the ports I used or e-visas for British passport holders. Visa problems did prevented me from riding through Saudi Arabia though as I had wanted to originally.
Cyclo: And physical preparation?
VC: I raced a season of cyclo-cross finishing with the World Masters Championships in Belgium a week before I set off. With a month to go I toured Scotland as a dress rehearsal (in incredible cold and deep snow!). All the other prep took so much time I wasn't really in perfect condition, just good enough to ride myself fit.
Cyclo: Did you have a support team back home?
VC: Yes, my wife, my sister and her fella, other close friends and family, and my dad ready to buy me out of any trouble if I was skint. My sister was medical (she's a doctor) and travel logistics specialist, my brother-in-law constantly updated the website. I should have handed over to them well before I set off, but in the end it was last minute.
Cyclo: Was this always intended specifically as a record attempt?
VC: Yes and no… I dreamt up a slogan which reflected my priorities and goals: "In search of adventure, in aid of charity, and in search of a Guinness World Record". The record was always a goal, but not the highest priority. If all you want is a record, there are easier ones to chase, and it would be unforgivable to travel like this and not enjoy it. I raised a lot of money and publicity for the Geoff Thomas Foundation.
Cyclo: 17 countries in total – your best and worst?
VC: There was good and bad everywhere, but to generalise…
Best: Thailand. Very smooth roads, abundant and safe food (so welcome after India!), cheap accommodation, friendly people.
Worst: India. It's a great place to travel long days on the main roads, but the back roads are very slow, in the towns people can be very dodgy, and getting dysentery is never fun!
Cyclo: Which was your best day in the saddle?
VC: On the Sinai Peninsula, Egypt. A beautiful place (and World Heritage site), with smooth quiet roads winding along the flat sandy 'wadi' valleys between mountains. The people were very friendly and when I asked for water one evening in a town I was taken in and treated as an honoured guest at a school.
Cyclo: Any low points? Times when there was a temptation to simply stop?
VC: The only time quitting came up was in Libya. I was very ill with dysentery for several days and my wife asked me on the phone "So, is that it? Are you coming home?" – She built up my determination forever more buy voicing that option then. From then on things were never as bad and I always had more to lose by stopping, so I could look back and know that I'd decided I wasn't a quitter.
Cyclo: What was your diet like on the ride?
VC: Terrible! I needed a huge amount of food, about 10,000cal per day. You don't really get to be picky when consuming that much in foreign countries. I ate lots of junk food, particularly in the USA, and lots of biscuits all around the world.
Cyclo: Which bit of kit would you definitely not have been without (and anything you wish you'd left behind?)
VC: My dynamo hub (and charge regulator) was brilliant. That simple device, which hardly takes any effort to run, could charge my cameras and phones and power my lights. I had no need to plug anything into a wall socket at all. The only unnecessary thing really was taking a stove across Australia, but I posted it home as soon as I could.
Cyclo: At what point (if any) did you know that you had the record in the bag?
VC: Only with a few metres to go did I really believe it. Until then I knew it was easy to make a mistake or have some bad-luck that would simply end the ride, but for at least the last 6,000 miles I'd been comfortable for record pace.
Cyclo: What's next for you?
VC: I came up with the concept of a race around the world even before I attempted the record. Now the "Global Bicycle Race" is my next project and I've persuaded 10 or more riders to be on the start line in Greenwich on February 18 2012. I'm the organiser and I'll be trying to raise the profile of the event and the riders while they experience the world. Each rider will travel independently and decide their own route, we'll track them via GPS and check they are doing okay. There'll be a really whizzy web-site to track the riders and get frequent updates from them – there's also various bike industry suppliers going to be offering prizes to members of the public who have encounters with riders and send in photos, articles, or videos of what happens. I hope it will be enthralling to follow…
For more information on Vin's adventures, details about the Geoff Thomas Foundation (including your opportunity to give generously) and for details of the Global Bicycle Race visit www.greatbikeride.com
Cyclo will be following the run-up to, and running of, the Global Bicycle Race. Stay tuned…
Photo Credit: Vin Cox