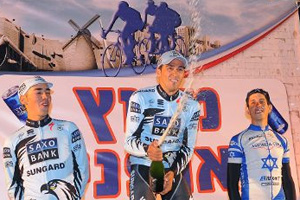 Yesterday saw a close-down for the first time of the old city of Jerusalem as it staged a two-lap, 40 minute criterium – a course described as 'a very demanding circuit'. Both Saxo Bank and the Israeli elite squad were in attendance, but it was the former that dominated proceedings with their Spanish star Alberto Contador (celebrating his birthday) taking the top of the podium.
Commenting on the win and his time in the country, Contador said, 'I'm extremely happy to be here in the first place. This first week of my stay here, I've experienced nothing but great support in a fascinating country. Both in Akko when we were doing the cycling school project and here in Jerusalem, people have been very supportive of us. It makes me proud being the first ever to win a criterium here in Jerusalem.'
Less fortunate was Contador's team mate Chris Anker Sørensen who crashed spectacularly (and very heavily) on the first lap – the Danish rider was rushed to hospital but it was later reported that he had suffered no serious injury. 'We're relieved that we have him back on the road in no time.' said team owner, Bjarne Riis.