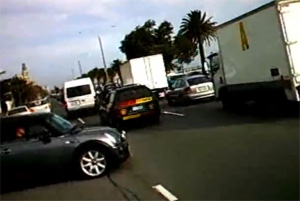 Cyclo loves road safety! So we salute Marilyn Johnson, a Research Fellow at Monash University in Melbourne who has produced not only some interesting (and useful) statistics but some cracking video footage too. In order to analysis causes of accidents,  Johnson attached helmet cams to a group of 13 commuter cyclists for a four week period and watched (at times we assume in horror) as the drama unfolded.
Over 127 hours, 54 'events' were identified – two crashes, six near-crashes and 46 'incidents' (an 'incident' being similar to a near-crash, but less severe, where one road user needed to take some evasive action.) In 87% of the events captured, the driver was discovered to be responsible and in 74% of those events, the driver cut the cyclist off, turning in front of the cyclist without either providing enough space, indicating effectively or performing a 'head check'. Watch the amazing footage below or see theconversation.edu.au for more information about the research (and more incredible footage too.)


Naturalised cycling study (clip 2) from conversationEDU on Vimeo.