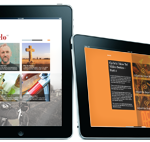 Cyclo is proud to announce that its second iPad edition is now on the (virtual) newstands with a cornucopia of all things two-wheeled to inspire and delight you. Our Olympics track guide, ahead of this year's London Games, will help you tell your Omnium from your Keirin whilst our interview with coastal cyclist Nick Hand shifts us down a gear and reveals the utter pleasure of (just occasionally) taking things sloooow.
We also have plenty of kit and gear reviews to motivate you – everything from the quite sublime to the simply ridiculous (a chain wheel clock anyone?), along with our spotive guides and regular 'How To' video tutorials. This month they are all about the 'Mech'.
Why not give it a try and download at the iTunes Store for just £1.49.
Happy swiping, happy reading, happy cycling.