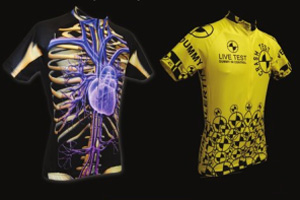 With the winter weather still dull (positively Arctic in places) Cyclo was delighted to come across a new range of cycle jerseys that put a smile on our faces and a little warmth in our hearts. Designed by new outfit Jensen Cycling – a sister company to sportswear makers Milano Pro Sport – the kit comprises a range of unusual, humorous designs from Crash Test Dummy to a head-turning and convincing trompe l'oeil Bikini  Top; we road-tested out favourite, the Cardio (a sort of glimpse inside, pumping heart affair), to put the tech not just the look through its paces.
With each available in a dozen or so size and long/short sleeve combinations getting the right fit and look was easy and comfort was never in question. A decent length at the back, but nothing to excessively flappy, ensured warm kidneys and everything stayed right in place without any unwanted upwards riding thanks to a close fitting elasticated bottom that proved to be just on the correct side of snug. A generous amount of zip on the front allows for easy on-the-peddle ventilation (trust us, not that we needed any on our frigid test ride) and twin back pockets will pack in more than enough snackage for pretty much any sportive.
Crucially – although again far from necessary on our February exploits – the jerseys are 100% COOLMAX® fabric, which, for those who have been off-world, is the go-to moisture management system in sportswear, that helps wick moisture (sweat) away from the skin and regulate temperature on the ride.
If we had to make a 'gun-at-the-head criticism' of any kind it would be that a little inbuilt reflective always goes a long way safety-wise, although in fairness these are not the sort of jerseys you are that likely to be out in at night. So that aside, what we have with the Jensens is a cool (in all senses), comfortable and highly original line in cycle jerseys – the only quandary they have left Cyclo in is which one we want to try on next…
Priced at £42.95, further information (including details of bespoke club designs) and online retail at: www.jensencycling.com