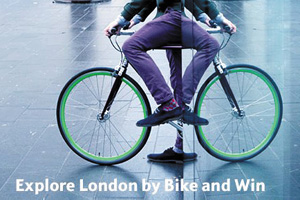 To Cyclo the combination of photography and cycling sounds like a recipe for disaster, but we're assuming that the idea of the competition run by Barclays, official sponsor of the London Barclays Cycle Hire (better know as 'Boris Bikes') and Barclays Cycle Superhighways, is that you actually stop and get off before snapping. Running from March 19 to May 4, 'London by Bike' is asking for submissions of pictures that 'Capture the essence of cycling in the Capital.'
Entries via their facebook page (details below) where a shortlist will be drawn up from 'likes' and comments before being judged by a mysteriously unnamed panel. The winner will see their picture used in 300+ branches of the bank across London and will be treated to £1,500 of cycling equipment, a weekend stay in a 5 star hotel and dinner courtesy of Heston Blumenthal.
Cynics should note that whilst entrants retain their intellectual property rights, by entering you are '…grant(ing) the Promoter and any of the Promoter's related companies an irrevocable, worldwide, non-exclusive, royalty-free, sublicenseable and transferable license to use, reproduce, distribute, prepare derivative works of, display…' etc, etc. With the news that George Osborne yesterday granted some £15m in the Budget to improve safety for cyclists in London, Cyclo suggests a winning entry might comprise the Chancellor, the Mayor and the PM on a Goodies style bike.
Full details and entry at www.facebook.com/BarclaysBikes