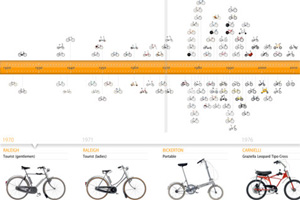 When the original (paper would you believe?) edition of 'Cyclepedia – A Tour of Icon Bicycle Design' was published last year by Thames and Hundson we snapped up a copy here at Cyclo – spending hours poring over the delicious images and wishing we could start our own vintage/classic bike museum. Imagine our delight then at the release of the interactive iPad edition, and what a thing of beauty it is – as sumptuous and desirable as the bikes it covers.
The 100 bikes covered in the digital version – everything from the Skoot to the Lotus Sport 110 – are beautifully illustrated and supported by 360º 'spinnable' models with detailed close-ups of components and hundreds of pages of original brochure and promotion material, engineering sketches and far more besides.
Arguably there are some omissions (this being slimmed down from the print edition) but Cyclo feels this is more than adequately made up for by the wealth of interactive swiping and tapping available – our favourites being the animated fold-ups that can eat up hours of what would otherwise have been productive time.
As an overview of the evolution of cycling the app works wonderfully and the ability to reorder and catalogue content adds a personal touch that's hard to beat. £6.99 is a price that at first seems steep for an app, but as the iPad continues to evolve as a means of content delivery it's really time to start thinking in terms of coffee-table book comparisons (the print edition will cost you double). Buy it, play with it. Love it.
For further details see: itunes.apple.com
And while you're there don't forget to drop by and pick up a copy of the Cyclo app too: itunes.apple.com