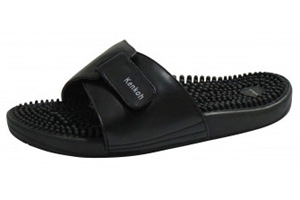 With much sunnier weather in prospect it's high time to start looking at something beyond the comfy fire-side slipper for that all-important post-cycle recovery and pamper session and with that in mind Cyclo took a (slightly cynical) look at the Kenkoh Classic Health Sandal. Why cynical? Well beyond the aesthetic – the Kenkoh's are odd to say the least – the big selling point for these Japanese imports is that they claim to stimulate the many reflexology points on the sole of the foot and, as something of a pseudo-science, reflexology is something we rather reserve judgement on.
The sandals 'work' (depending on your definition/belief-system) through stimulation provided along the length of the under-foot by 1000-plus tiny rubbery nodules that gently massage the foot with each step taken. Putting aside any particular adherence to the benefits of reflexology, what the Kenkohs do undeniably delivery is an exceptionally pleasant and wholly unexpected massaging of tired feet that stimulates blood-flow to speed recovery. The sensation – which at first feels a little like walking on a tiny bed of nails – is oddly relaxing and after a few hours strapped into race shoes brought quick relief to achy soles and toes.
We can certainly see some benefits here to riders suffering a range of minor foot ailments from plantar fasciitis and heel bruising to poor circulation and, although we would argue that the Kenkohs are far from the stylish 'must-haves' that the makers claim, they work exceptionally well in revitalising pedal-worn feet. Cyclo loves a spot of pampering and combining these with a little after-cycle foot cream massage is the closest we're likely to commit to a day at a spa.
Expect to pay around the £50 mark for the Kenkoh Classics or £35 for the all-new flip-flop version that hides away the 'magic' nodules within far more conventional looking summer wear. More information and online purchase at www.kenkoh.co.uk