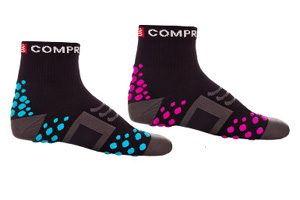 CompresSport have been making steady inroads in the world of compression technology race kit over the last couple of years. Increasingly a brand seen at triathlon and particularly Ironman events throughout Europe and beyond (the likes Chrissie Wellington and Tim Berkel sport them), the initial range – including quad and calf guards – has begun to grow and now includes their first foray into cycling specific kit in the form of their B.Sock ProRacingSocks. Whilst the name might seem a little cumbersome the product itself is an excellent blend of tech and style that builds on the brands reputation.
Light and comfortable in the extreme the B.Sock holds, indeed almost cradles, the foot whilst providing a well judged degree of compression that delivers posture-holding support and improved circulation – which works to advance performance and, arguably, speed recovery post-ride. Despite the wide toe piece, the B.Sock sits comfortably with the range of shoes that Cyclo put through their paces.
The '3D dot' technology that covers sections of the sock isn't just for show either; the dimples are intended to work as tiny shock-absorbers and whilst it's been tough to either prove or disprove the idea in testing, feet have certainly felt relatively fresh after some good long rides with little or no ache. The circulation of air is also improved by their inclusion and the further addition of a silver ion treatment to the fabric holds bacteria at bay if things do get sweaty.
With a two year guarantee and a price tag of £15 these inarguably represent good value for money and their range of sizes (all the way down to a UK Women's 2.5) is a bonus. More information and online retail at www.compressport.uk.com