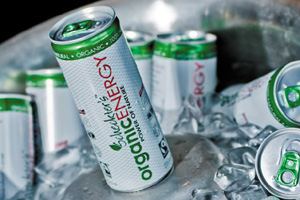 Need a boost on the bike? Hate the quick fix 'jag' of coffee or more traditional energy drinks? The answer could well lay with Scheckter's OrganicEnergy, a break from the norm that delivers a 100% natural power lift and boasts organic credentials to boot, whilst also claiming a more sustained approach to energy levels without any of the sudden crash that can accompany other manufacturers' product. As if Scheckter's needed one more trick up its sleeve, it tastes great.
Developed by Toby Scheckter, a former racing driver who was raised on an organic farm, the 250ml cans of OrganicEnergy delivers through three main mechanisms. Firstly, caffeine comes from a combination of raw green coffee bean extract and guarana, the latter a South American plant related to the maple which delivers twice the caffeine of coffee alone – one can of OrganicEnergy provides approximately 85mg caffeine, about the same as a double espresso. Secondly, ginseng a traditional herbal supplement that claims innumerable benefits (though none scrupulously tested or proven) and finally gingko biloba another long-established herbal preparation which is often said to improve mental focus and improved blood circulation – though the latter isn't amongst Scheckter's claimsf for it.
However, Cyclo can be absolutely certain on several points: the caffeine boost was more than perceptible on the ride, a good steady increase that felt sustained and didn't leave us lagged at the end of it. Beyond the increased buzz that you would expect caffeine to deliver, it's also worth noting that mounting research shows that it can, in the short term, increase VO2-Max (effectively the amount of oxygen you can metabolise and the effectiveness with which this happens) in addition to raising lactic acid thresholds which can delay the onset of fatigue. We also know for sure that Scheckter's OrganicEnergy tastes incredibly good – almost an unheard of quality in energy drinks where the norm still seems to be 'if it tastes foul, it must be doing some good.' This drink delivers a crisp, clean, slightly citrus taste with no bitter after tang.
Soil Association and Vegetarian Association approved, Fairtrade compliant, 100% natural and organic and, another bonus, from this month also available in a 'lite' version that has 33% fewer calories, thanks to the switch from sugar cane to organic agave, a cactus-like plant native to Mexico. Scheckter's OrganicEnergy is available from Waitrose, Holland & Barrett and some independent health food stores across the UK with a RRP of £1.45 for a 250ml can. This drink is definitely set to be Cyclo's taste of the summer rides. Further information at www.schecktersorganic.com