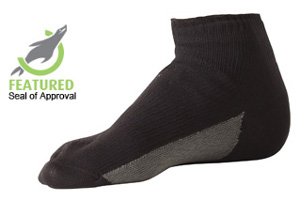 Keeping feet dry in unforgiving British weather is no easy thing, but after an unprecedented dry winter, Cyclo has finally been able to take to the saddle in some proper foul conditions to put the SealSkinz Waterproof Thin Socklet through its paces. The things we do for you…
Made with a fine Merino wool lining with excellent wicking properties the socklet certainly eliminates sweaty or clammy feet, despite its middle waterproof membrane keeping more metrological moisture on the outside – the only slightly disconcerting aspect being that it crackles like a crisp bag when you slip it on. But once in place (crackle no longer audible) it's one of the most comfortable socks we have tested; initial concerns about the seam – which runs down the middle of the sole from toe to heel proved unfounded even against the inner pressure of rigid ride shoes and the elasticated instep provided a good degree of support.
On the ride these undeniably kept the feet bone dry from both spray and torrential conditions and those that prefer a longer sock can also look to either the ankle- or mid-length option, the latter also available in a thicker version for all-season cycling. Easy to see why SealSkinz appeal to even top-flight cyclists with Bruno Reverberi, Manager of Colnago-CSF Inox, stating: 'We use SealSkinz products because they offer the best protection from harsh weather conditions. The Italian winter weather is very unpredictable and we need the best kit available to make sure that our riders are comfortable and focused on the task in hand…'
Priced at £22 for the socklet and rising to £30 for the mid and available in sizes from UK 3 to 14 (EU 36-49). These do their job so well it almost makes you pray for rain.