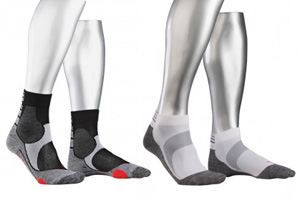 Long synonymous with quality and luxury, particularly with both running and skiing socks, Falke are less known in the UK for their cycling range, but with a heritage dating back more than 100 years and the same level of excellence clearly demonstrable across their full range, it's high time to redress the balance. Cyclo took a look at the BC3 (All Mountain), BC5 (Race) and BC6 (Pro Cycling), putting them through their paces whilst the vagaries of a British spring served up the full gamut of meteorological conditions.
First on the feet (thanks to a surprise sunny day) were the minimalist Pro Cycling socks; these are truly lightweight, designed for full power transfer rather than to pamper the foot with excessive padding and unnecessary detailing. However, despite the lack of 'pamper', the BC6s proved silky smooth and delightfully comfortable and, assuming your race shoes are appropriately fitted, the lack of extra volume shouldn't be an issue. Like all socks in the range these are ergonomically designed for left/right foot and use the bespoke 'smartcel clima' technology to regulate temperature – a system that worked well on test and also proved efficient at wicking away moisture.
A change in the weather and a change of sock (and indeed bike) to try out the BC3 All Mountain socks. Higher cut than the BC6 and with excellent padding through the Achilles, heel and toe box, these are perfectly suited to MTB or if, your road shoes allow, for colder regular rides. Again featuring thermo regulation and excellent wicking these are tough, durable socks that felt comfortable on long rides without the slightest sign of hot spots and the division of the sock into panels (by more open mesh structures) distinctly felt as if each part worked both independently and (paradoxically) in harmony with each other. Not over engineered, just very well engineered.
Finally to the BC5 Race socks – something of an everyday (though far from average) cycling sock that delivers light to medium cushioning and the same attention to detail as the rest of the range. Cool enough for summer rides and seemingly good enough at regulating temperature for some shoulder-season sessions, the BC5s deliver what they promise.
The Falke Ergonomic Sports System range (to give them their full title) were a joy to ride in and deserve far greater recognition here for their unparalleled degree of both manufacture and performance; and at £12 a pair stack up well in the wallet department too.