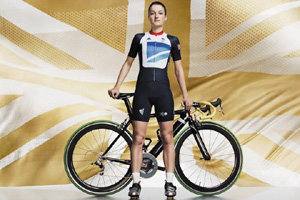 What a difference a day makes, not only in terms of weather as the Women's Road Race was fought in appalling conditions, but also for British fortunes as Team GB's Lizzie Armitstead took Silver, the first medal of the Games for Team GB. The Netherlands' Marianne Vos took Gold and Russia's Olga Zabelinskaya Bronze.
From the off the weather and wet and greasy road conditions worked against the field of 66 riders and the 140km event was, not unlike yesterday's Men's Road Race, defined by multiple spills that frequently decimated the pack. Vos, Armistead and Zabelinskaya rode a hard break from the peloton for more than an hour towards the finish line as the weather continued to deteriorate and by the time the three riders hit a sprint finish to determine the medal colours the roads were treacherous.
23-year-old Armistead (who didn't even own a bike until she was 16) was obviously jubilant and more than a little overcome with emotion, telling reporters, 'I'm a bit shocked, I'm glad I committed to that break'.
Team GB's Nicole Cooke (who won the event at Beijing) came in 31st and Emma Pooley who suffered what looked to be a puncture with less than 6km left to go, limped home 40th.