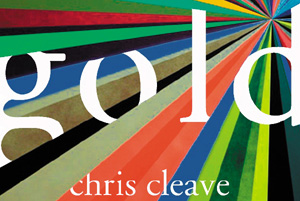 Chris Cleave's latest novel Gold (Cyclo dares you not to burst spontaneously into Spandau Ballet) is set against a backdrop of Olympic Cycling with best friends/bitter rivals Kate and Zoe vying not only for the eponymous medal but, to an extent, the love of good husband/bad-boy Jack.
Cleave, already a well established and successful author (Little Bee, Incendiary), works hard here in capturing both the heartache and dedication that becoming a top-flight athlete involves – he took up and became addicted to the buzz of cycling in the process – but despite providing an imagined glimpse behind the curtain Gold pulls more in the direction of heavy-handed melodrama. Kate and Zoe are thinly sketched opposite sides of the same coin – meaning that neither elicit sympathy nor or cheers on the track – whilst both love interest Jack and grizzled old coach Tom are crashing clichés. Worse still, the use of a (potentially) terminal ill child as a plot device is so crushingly manipulative that it quite unbalances any momentary equilibrium achieved elsewhere in the plotting.
Cleave has done his homework and writes, at times, with impressive detail about the minutiae of cycling and the bikes themselves, but then applies the same descriptive techniques to things like kitchen worktops; which makes the whole process seem somewhat fetishistic. Purely as a wordsmith he sometimes shines; his description of the velodrome as '(the) gladiator's arenas, encircled by the roaring crowd, where human speed and human loneliness were contained so that they might be witnessed' is wonderfully lyrical – but the thrill of the drama that can unfold within these World or Olympic level arenas are never matched by the Mills and Boon relationships that he explores here.
Cyclo had expected great (or at least good) things from Gold. Cleave is a respected author and the backdrop of pro cycling had seemed an alluring prospect, but in reality watching a handful of rain-drenched Sunday warriors at play at a local track provides abundantly more thrills than this book.
Gold by Chris Cleave is published by Sceptre – ISBN-10: 0340963433. Available, amongst other places, from amazon.co.uk