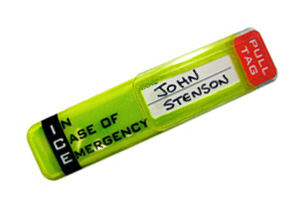 Time, we thought, for Cyclo to do a little campaigning… Ice (as a pack) can help reduce swelling, ICE (as an acronym) might just help save a life. Standing for 'In Case of Emergency' the idea of ICE is to encourage everyone not only to carry next of kin details – stats suggest that more than 80% of us head out without them – but to store them under the entry 'ICE' in our mobile phone where they can be readily identified by the emergency services. Such an obviously brilliant and simple idea, it's odd to think that despite having surfaced in the mid-2000s it hasn't universally caught on.
The original 'eureka moment' came to Bob Brotchie, a clinical team leader for the East Anglian Ambulance NHS Trust in 2004 when he found himself continually confounded by the seemingly simple task of contacting relatives of patients. 'I asked myself,' Bob says, 'how can I create a uniform way for the public to accept, and emergency responders to adopt a method of accessing the relevant info – fast. I thought of an acronym, so that I would know where to go, in the phones contact list straightaway. My earlier experiences had demonstrated that simply searching the contact list was haphazard…and time consuming! I didn't know who to call and often got no answer anyway. Worst was when I had to give up, so as to continue with immediate care. I thought of ICE – In Case of Emergency and felt that if phone owners prefixed the 'agreed' ICE contact with ICE, then responders could go instantly to 'I' for ICE!!… Simple!'
The campaign gained initial traction and was strongly supported at the time by numerous other ambulance services, ramblers clubs and even the Welsh Assembly with Deputy Health Minister John Griffiths commenting: "Spending time trying to contact the next of kin can delay the start of treatment… If everyone follows this advice and puts an ICE number into their mobile phones any such problems can be overcome.'
One of the problems today is the almost universal adoption of smart phones; ironically – given their usefulness for communicating in terms of text, calls, SMS, email, social media and more – when it comes to ICE they can be disastrous for one simple reason: to protect their all-encompassing content, we PIN protect them, locking out the paramedics at the most crucial time.
If that mean's the mobile's time has passed in usefulness for ICE (still worth entering those details in case) what are the alternatives?
The full article will feature in issue 3 of Cyclo for iPad coming soon. For issues 1 and 2 take a look at Cyclo in the iTunes Store – issue 1 is free, issue 2 just £1.49