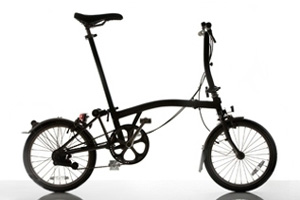 The Church of the Immaculate Heart of Mary would be an incredibly cumbersome name for a bike. Fortunate then that said church, overlooked by engineering graduate Andrew Ritchie's bedroom workshop whilst looking for a good name for his prototype folding bike, was popularly know as the Brompton Oratory – or more simply still The Brompton.
Ritchie graduated as an engineer in 1968 with the intention of pursuing a career in computing, but found himself instead self-employed as a landscape gardener. In 1975 he came across a Bickerton folding bike (known as the Bickerton Portable and first produced in 1971) and decided he could improve on its design. With financial backing from friends he produced Prototype 1, which, despite larger 18inch wheels, bears an uncanny similarity to the models still produced in West London today – testament to both Ritchie's genius and the phrase 'if it ain't broke, don't fix it…'
Today, not only is the Brompton the go to folder for commuters it also boasts something of a galaxy of star fans. Top Gear's James May, author Will Self ('the first time I saw a Brompton folding bicycle, I fell in love with it.'), actor Woody Harrelson and singer Katie Melua – who, of course, claims to know how many bicycles there are in Beijing – all love the Brompton. But what is it that makes this such a design classic?
'Brompton Bicycles possess three major qualities of a great iconic design,' says Alison Hung of product design gurus LKK Innovation, 'Aesthetics: it has an instantly recognizable image. Functionality: that answers its users' needs for more convenience. Quality: a design that is carefully executed into a product giving it the quality that its users can always rely on. Although there are imitations Brompton Bicycles' cult status has never been surpassed, and that is the staying power of a truly iconic design.'
The full Brompton feature will be in issue 3 of Cyclo for iPad coming soon. For issues 1 and 2 take a look at Cyclo in the iTunes Store – issue 1 is free, issue 2 just £1.49